Method:

Connect the two ends of the diode to two of the terminals on the jack socket - there are usually 4 on a jack socket. Make sure you don't select the two that are switched off when the plug is inserted (obvious when you look at it).

Make sure that the connections are mechanically sound - solder them if you know how, but remeber to hold the wire between the joint and the diode with pliers, to stop the heat reaching the diode.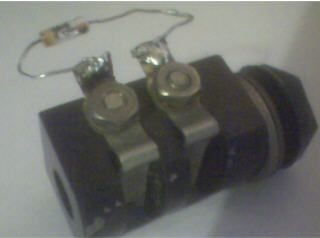 Plug one end of the lead into the socket, and the other end into the amp.
Hold up the wok to face the sun (CAUTION: don't look directly at the sun). Move the socket with the diode on it back and forth just above the surface of the wok. You should find a spot where you hear a low scuffling sound as you move the diode. This is caused by radio waves transmitted from the sun. Turn the wok and diode round, away from the sun, and the sound disappears.

HOMEPAGE